Can Men Wear Celtic Claddagh Promise Rings? A Gift For Our Father.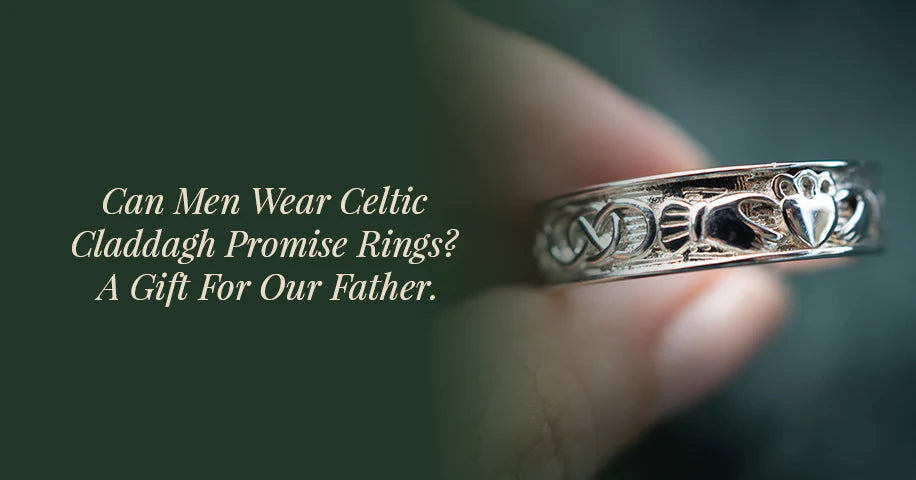 When we think about jewellery, we would assume that only women would wear it. The truth is men wear jewellery just as much as women do; it just so happens that they aren't marketed similarly. So the age-old question is still fixated, "Can men wear Celtic Claddagh Promise Rings?" the answer is CLEARLY yes. Being married isn't the only reason to wear rings; you can wear pieces that symbolize or showcase your personality and values.
If you are still pondering whether you could purchase Celtic Claddagh Promise Rings or get your father one on Father's Day, think no further because you can.
What would the Celtic Claddagh Promise Ring mean for men?
The symbol embodies friendship, unity, love, loyalty, and pride for your heritage. We wear these pieces to represent what we believe in and to look good while doing so.
You are paying respect to your Irish heritage.
With the transition, innovation, and change over time, we forget about our ancestors and those who have come before us and have given us what we enjoy today. It is due to their sacrifices and the struggles that they have endured to succeed for future generations. The Irish heritage is filled with stories, myths, and folklore that we still consider as we pay patronage to our heritage. Men and women often wear the Irish Claddagh to take pride in their heritage, symbolizing remembrance and respect.
There are different ways to wear Celtic Claddagh Promise rings to showcase what you intend people to perceive easily. Here's a quick guide that you can check out. HERE
Celtic Claddagh Promise Rings are unique.
Most men prefer Claddagh rings over wedding bands due to their intricate design and symbolism. Besides the idea of tying the knot with your partner, it becomes more meaningful if your piece of jewellery carries the heritage, values, and symbolism of your Irish roots and culture. It also allows men to showcase and tell their stories through jewellery.
It's the perfect gift.
Why would you get your Father, Husband, guy-best friend, Brother, and Uncle a Celtic Claddagh Promise Ring? It's the perfect gift for men because, besides the fact that they can pay homage to their Irish roots, culture, and heritage, you are allowing them to look stylish and unique. Not many men would wear rings that possess the value of love, unity, promise, gift, and loyalty. Imagine a world wherein we give men the equal opportunity to promote and showcase their values and personality through jewellery.
In conclusion, let's break the norm wherein jewellery is for women ONLY. We live in a society that has evolved. The stereotypes and generalizations about jewellery, clothes, and other accessories are already past. If men want to wear jewellery, they should be allowed to do so. And if women want to showcase and profess their love to their respective partners with Celtic handcrafted pieces, they should be allowed to do so.
If you haven't found the perfect gift for your Father or Husband this Father's Day, you should visit Celtic Knot Jewellery TODAY.
In the comments section below, we would love to hear your thoughts on men wearing Celtic jewellery pieces.