Feel and Understand The Depth and Tradition of Irish People Through Traditional and World Renowned Dishes.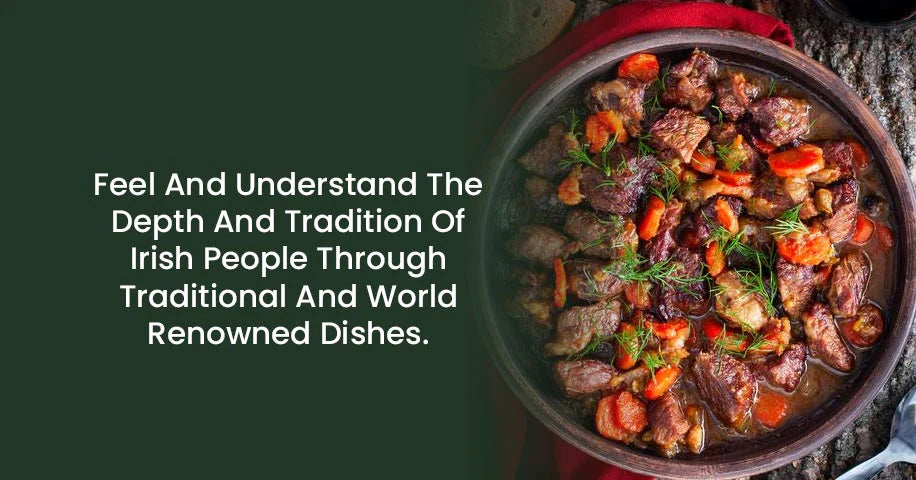 One thing that keeps us all connected to our roots and heritage is the traditional dishes that our country indulges in. Our grandparents, ancestors, and parents today have passed down recipes that take us back to our childhood—reminiscing on moments when these recipes have given us comfort and warmth filled with flavors that spark colors and magic.
When traveling to different countries, we can guarantee that we first think about what type of food they have in store for us. What flavors and variants will tickle your tastebuds? Ireland is no different. The beauty of recipes from all countries across the globe is that they vary in spices, cooking process, proteins, veggies, and even incorporated fruits. Every country has its unique way of cooking these special dishes; all we have to do is try them.
What makes a traditional dish impactful? It's how the recipe has withstood the test of time; these flavors and combinations passed down through several generations showcasing the same value and essence it embodied the first time it was cooked and invented.
Let's go through some traditional Irish dishes that are a staple in the cuisine and a must-try for travelers and the public. These dishes are rooted in traditional practices and have been significant in every Irish household and method.
Soda Bread
Every household in Ireland has its unique soda bread recipe, handwritten on cornmeal notepaper and tucked away among the food books. Some want it sweetened with honey, sugar, or dried fruits. Others prefer sprinkled seeds, bran, and oats on top for added health benefits or molasses and Guinness for the reverse effect.
However, the core ingredients remain constant (any form of bicarbonate soda and buttermilk constitute the rising agent, combined into the flour), as is how it is eaten: sliced and thickly slathered with butter. This is one of the staple pastries you can be assured would be significant in any household.
Irish Stew
Irish stew, typically made with mutton, onions, and potatoes, is the epitome of one-pot cuisine (the addition of carrots can be a debatable issue). To avoid a watery stew, some recipes call for the acquisition of pearl barley, a spoonful of roux, or diced potatoes, while others propose reducing the liquid by allowing the stew to boil.
Nowadays, Irish stews are more frequently made with lamb (as more flavorful mutton is more difficult to source), with stock and herbs such as thyme, parsley, and bay leaves giving depth of flavor. We have all experienced those cold winter nights or stormy evenings, and this stew has kept us warm through it all.
Colcannon and champ
When potatoes were brought from the New Market in the late 16th century, they altered Irish culinary cuisine. Ireland's population snowballed because this abundant and cheap food source was the staple and go-to for Irish households. Then it was decimated in the nineteenth century when potato crops were struck by blight.
Potatoes remain a mainstay at most mealtimes, with traditional meals continuing to be popular. Colcannon is conventional Irish comfort food made with potatoes, cabbage (or kale), butter (or cream), and spring onions. Champ is a similar mashed potato dish with spring onions, milk, and butter. We are Irish and love potatoes; if it has not been apparent, you may want to learn more about our culture.
Boxty
Potato dumplings, potato pancakes, and potato bread describe boxty; some claim the word comes from the Irish term arán bocht t, which translates as 'poverty bread.'
The recipe calls for the grated raw potato to be combined with mashed potato and then steamed before being sliced and fried in butter ('boxty dumplings'), added to a pancake-like batter before being cooked ('boxty on the pan'); or added to a crepe batter before being baked in a baking dish and then sliced and fried in butter ('boxty in the oven').
Whatever you choose to dress it, your boxty will go with almost anything. Combine it with eggs and bacon or roast pork and crème fraîche for a delectable combination.
Black And White Pudding
The Irish were not the first to discover the pleasures of black pudding (pork meat, fat, and blood mixed with barley, grease, and oatmeal in an intensely flavored sausage). While white pudding (identical to black pudding but without the blood) is less prevalent in other parts of the world, no full Irish breakfast would be complete without a piece of each.
Apart from breakfast, black pudding is just as likely to feature on the menus of upscale Irish restaurants these days, paired with sautéed scallops, in croquettes, beneath poached eggs, in salads and risottos, and as a garnish for soups.
Each household will have its version of these staple dishes, and the variety of stories they have to share will vary. The only thing common in these dishes would be how they were made and how they have been passed down. Ultimately, the flavor and palette needed for perfection will only be from Ireland locals.
Check out pieces and collections that remind us of our Irish heritage and values with Celtic keepsakes that embody our Celtic Knot Jewellery values.
If you have other dishes and recipes not mentioned, discuss them in the comment section below!