How To Take The Perfect Engagement Ring Shot With Your Celtic Knot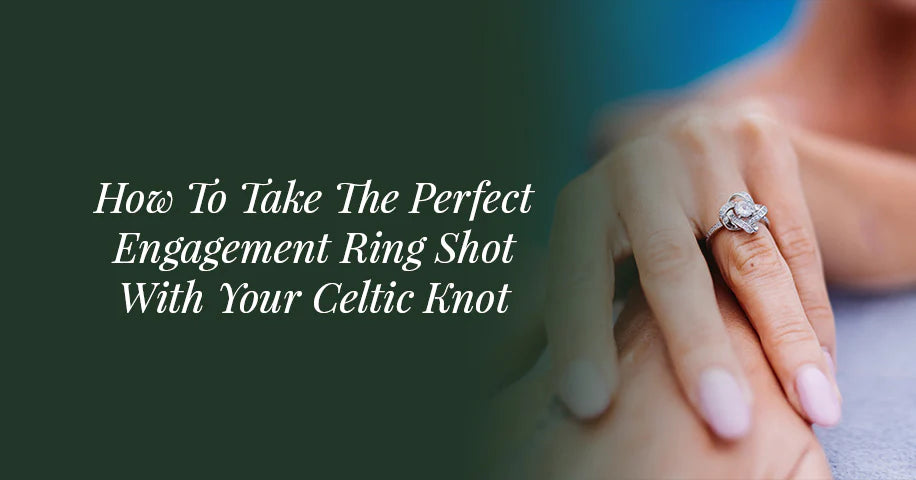 Getting married is one of the momentous occasions that two people share; on that particular day, you cherish the bond and promise you plan to exchange for the rest of your lives. But before you get to that big "special" day, you celebrate the promise made with your engagement ring. This is when your partner has decided to propose, and you have accepted.
Suppose you haven't noticed in today's society. In that case, we are proud to showcase this moment through social media platforms, or we would want to reminisce about this moment through photos years later. We wouldn't want to reflect on blurred images or through unappealing shots, and we would like to take the best picture of our engagement rings.
Another factor is that, as Irish people, we aren't just going to get any engagement ring; we choose to showcase our heritage and values through the symbols we believe in. The perfect example of these pieces would be the Claddagh and Celtic Knot Ring.
These pieces embody the values of Unconditional Love, Commitment, Friendship, Unity, and Loyalty. The values embedded in these pieces are what we want to showcase and remember.
The next question is, should you hire a professional photographer, or can you do it yourself? It would be easier and more convenient to hire someone to take these photos for you; then again, we aren't all well off or lucky enough to have a professional amongst our peers and colleagues.
Here's how to take that perfect shot all on your own!
The Preparation
Before taking those photos, you have to ensure you are prepared. Taking several images would be a waste of time, yet the pieces worn or even your hand need to be at par with your expectations.
Make sure you clean the ring before shooting; this will encapsulate the true beauty of the piece, negating smudges and dust that could be visible in your shot. Another tip would be to get your nails done before the shoot, it may sound like a reason to get a manicure, but you can opt not to do so as long as your hands are squeaky clean.
The Background
You could easily take pictures of your hand on the table and blur out the background, but some couples or individuals choose to take shots different from what you see in ads. An excellent suggestion would be to take your partner to the first place you met or a beautiful scenic view and take the shot with them. It showcases a fond memory and would also look great in the picture.
Some people find it interesting to use props or other objects that can draw attention, yet the focus would still be on the piece, serving as an inanimate background in the shot.
The PERFECT Shot
Keep shooting till your heart's content. The perfect shot isn't really on the first click. Many professionals make it seem like it, but that's why they take hundreds and thousands of photos on each shoot because you can always find that perfect moment within a pool of misses. It may seem exhausting to take several shots but trust us, it will be worth it.
BONUS TIP
Have fun with it, and unlock your inner quirks; you may not notice it, but seeing genuine happiness in photos can put a smile on anyone's face. Smile even if you are shooting your hand; it makes the shoot more comfortable and keeps your hands relaxed during the shoot. If you take these photos with your partner, share a laugh and try to take those candid moments to your advantage.
The perfect shot and engagement ring may not exist; the ideal scene would be the genuine happiness that these pieces and photos bring. Embody your beauty and values in every detail.
If you haven't found an engagement ring yet, check out our store for pieces that may suit your liking at Celtic Knot Jewellery.
Feel free to leave your comments and suggestions below; we would love to hear from you!