Learn About Symbols That Have Molded Irish and Celtic Values Through The Jewellery We Wear EVERYDAY!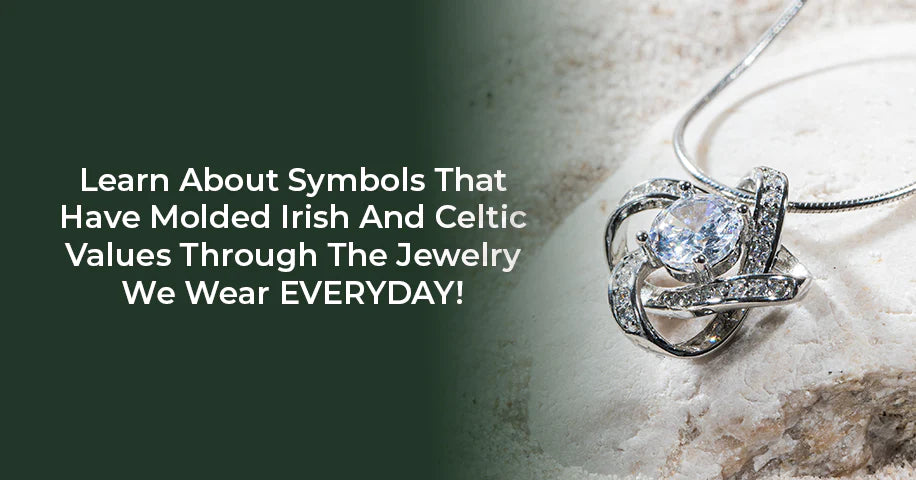 We all know that every culture is filled with various historical backgrounds exemplified by different life aspects. Each culture would reminisce and embody its values, practices, and symbolisms subtly yet intricately. One is through their jewellery, designed and encompassed with such beliefs.
One thing to note is that in Irish and Celtic practices, these symbols and designs not only bring forth a story, but their meaning also showcases the values they practice. These values and symbolisms are expressed in the methods and explained or passed down by our ancestors.
Let's go through some symbols that the public may be aware of yet have not embraced the true essence and story behind them. Learn, discover, and further understand these symbols with us today.
Circle Of Life Symbol
The Circle of Life emblem and symbol was inspired by our forefathers' 5000-year-old Celtic circles carved in stone and rocks. The Celtic swirl, seen in Irish historical landmarks such as Newgrange, is a sacred symbol.
The swirl, which has no beginning or end, represents the journey and shift of life. Ireland has built an affluent society in tradition, heritage, and beliefs. Our diverse ancestors passed on an understanding of life, faith, and hope to succeed in facing adversity no matter where we go and what we encounter.
St. Patrick Symbol
St Patrick is the Patron Saint of Ireland. Saint Patrick, legend has it, helped turn Ireland from a country of pagan ignorance into a sanctuary of study and culture in the fifth century. He is said to have preached Christianity using a Shamrock, illustrating the Father, the Son, and the Holy Spirit with the three heart-shaped leaves.
The Irish community observes St Patrick's Day globally on March 17th. It is customary to wear Shamrocks on this day in his honor and to celebrate Irish culture.
Round Towers Symbol
These beautiful stone buildings proudly stand as lasting representations of Ireland's Christian religion. Towers typically range in height from 17 to 40 meters and include a single entrance elevated two to three meters high and small holes straight up in the building that serves as windows. Between the ninth and twelfth centuries, it is thought that the Round Towers protected religious congregations and their priceless treasures from attackers.
The Vikings altered the environment and culture of Gaelic Ireland as traders and talented blacksmiths and metalworkers.
Irish Harp (United Irish Men Symbol)
A century later, the vast religious difference still dominated the nation. Catholics demanded more rights, believing the governing class exploited religious divisions. The United Irishmen's ultimate aim was to divorce religion from politics. Initially based in Belfast, the organization was outlawed by authorities in 1793 as it gained popularity but disbanded by 1803 due to several months of continuous and deadly conflict after the 1798 uprising.
Irish Flag
He is generally alluded to as the Irish Tricolor, Ireland's National Flag is distinguished by its green, white, and orange color scheme. According to tradition, green symbolizes Ireland's ancient Gaelic culture and society. At the same time, the orange represents William of Orange's Protestant followers and his triumph at the War of the Boyne.
The center strip of white represents the desire for harmony between these two civilizations. It was hoisted publicly for the first time on March 7th, 1848, by Thomas Francis Meagher; it was not until the 1916 Easter Rising that the national flag came to be recognized as Ireland's national flag when it was raised over the GPO in Dublin.
Famine Ships Symbol
The Famine was a defining moment in Irish history. This began the enormous 'Irish Emigration,' particularly to America. The Famine Ships provided hope for a brighter future, and thousands embarked from Irish beaches, confronting an uncertain destiny. Those fleeing the horrors of hunger were forced into overcrowded, disease-ridden ships with hardly any exposure to essential food and clean water.
Unfortunately for many on board, the hope of a new life devolved into a nightmare. Hundreds perished on the crowded and under-supplied ships. As a result, they are dubbed coffin ships, as up to 1 in 5 or more passengers die before arriving at their destination.
The beauty and story behind these symbols are engraved and designed through the characters we wear today. The Celtic Knot showcases that there are no ends and that the beginning of the adventure is all a part of our existence. The Claddagh showcases love, loyalty, and friendship, which is evident in the symbols shared and so much more.
Each piece was designed by Celtic Knot Jewellery. Directly represents what we believe in and practice throughout our Celtic and Irish heritage. Let's embrace our roots today as we wear pieces that embody these practices. Visit our store, and let's share our traditions with the rest of the world.