What's Your Status? The True Meaning and Symbolism of The Claddagh You Wear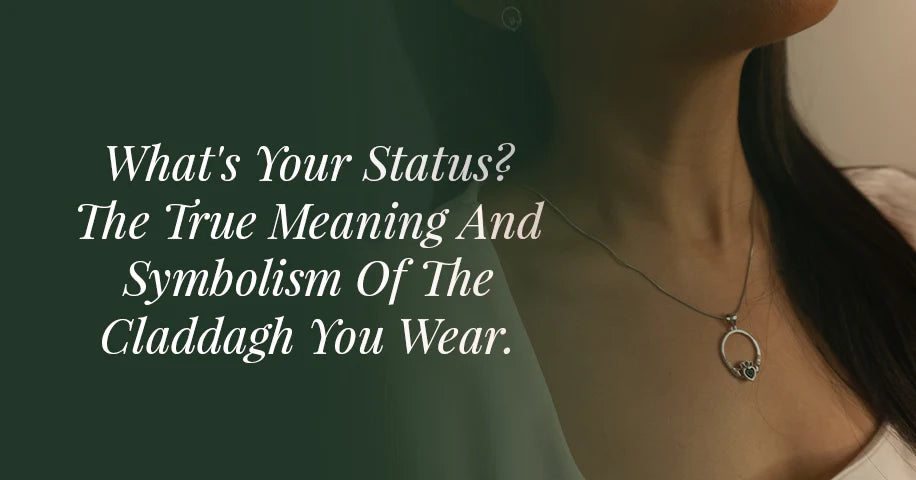 Jewellery matches any season, but Celtic pieces are truly astonishing because they aren't just a statement or an accessory. Each symbol is handcrafted and rooted in values and meaning. How you wear each piece or where you choose to wear it can already embody your story and personality.
That's one of the selling points of men and women who choose to wear Irish pieces; they are proud to showcase their heritage through the pieces they wear. On the other hand, how you wear it can already symbolize your status and the intention of the person who gave you the report.
Let's dig deeper into how you should wear your Claddagh symbols to express your heart's desire through jewellery.
Proud To Be Single, But Ready To Mingle
Wearing your Claddagh ring on the ring finger of your right hand would express the idea that you are willing to find true love. You have purchased the piece to embrace your Celtic beliefs and heritage while showcasing that you are ready to allow a future partner to sweep you off your feet. You are wearing the symbol with the heart facing up, signaling that your heart is open and ready to embark on the journey of true love.
Exclusively Dating
Wearing the Claddagh symbol with the heart facing in on your right finger signals that you are actively dating, yet they have yet to pop the question. It allows you to express the idea you are willing to commit to and are currently seeking and building a fruitful relationship.
Engaged And Ready For Marriage
Wearing the symbol on your ring finger but on your left hand is a sweet declaration that your heart already belongs to someone special. You have already found your person wherein you can proudly state that they are the "one" you are meant to be with for the rest of your life. However, remember that the heart symbol should face out until your big day. It's one of the Celtic traditions wherein once the knot is tied, your heart can face in because you are already married.
The Representation Of Each Piece
The hand represents friendship, the heart represents love, and the crown represents loyalty. If you think about it, the symbolism of the Claddagh ring can quickly be coined with the idea of unconditional love. Your partner or particular person will be cherished with friendship, love, and loyalty, values that we believe are pure and beautiful.
It doesn't mean you can only wear the ring to seek love and affection from a partner. The unique symbolism can be expressed for even friends and family, people you know you can devote unconditional love to. Love is a delicate emotion that we all know can be said differently. Show someone how much you love them every day.
And there you have it; now you can wear the symbolism as you intended. Ensure you know how to wear it and when to change the meaning and placement to express your ideal message. What's excellent about Celtic Jewellery is that all the pieces can bring forth profound sense and emotion. Don't just wear pieces that look great; wear pieces that showcase.
Do you have other ways and methods to wear Claddagh? Do you have further questions? Leave a comment below, and we will be glad to assist you!
Order your Celtic keepsakes today and wear them how you intend to express your message. Shop Now!