Irish Festivals That Celtic People Talk About All Year Round!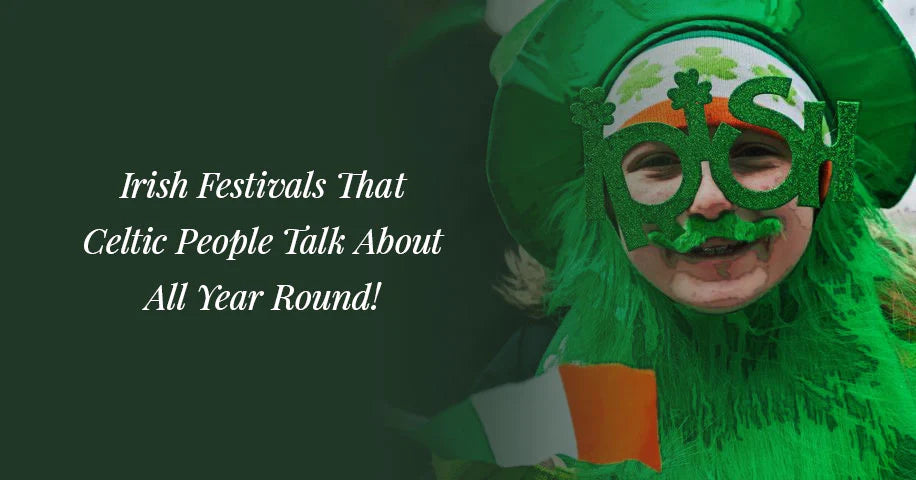 When people think about Ireland, they would easily assume that these people don't know how to party. Come to think of it; the country seems quiet and sleepy regularly. However, if you took a closer look and dived into their history and culture, you would slowly realize that these people can party and have festivals to prove it. Have you ever worn jewellery to festivals and wondered if it was appropriate or would fit the occasion?
Truthfully, we wear jewellery to exude confidence and portray a character we keep within. Wouldn't finding pieces that fit every event and festival we attend make sense? If you think about it, Irish and Celtic Jewellery embody and embrace these symbolisms of root and meaning. Irish Festivals celebrate the Irish culture and take pride in their momentous occasions.
These festivals aren't just filled with beer and alcohol; Irish people embrace celebrations to celebrate heritage and beliefs. These festivals are filled with life, art, music, and local food. Now, if that isn't a sweet deal, Ireland loves to celebrate festivals so much that they have at least one colossal festival every month. Here's a list of 5 Irish festivals you would have to attend at least once in your lifetime.
Temple Bar Tradfest
If you are a musical junkie, this is one of the festivals you would love to attend. It is usually celebrated in the last half of January that runs for five days straight—celebrating rich tunes with different genres. They have successfully celebrated this festival for 13 years, and it is getting bigger yearly.
The Gathering
A festival has been celebrating music, jig, storytelling, and ceilidhs, all in one event. This festival celebrated every February is a gathering for people with the same interests and an opportunity to learn. This unique festival offers a masterclass to teach the craft with workshops held by renowned experts. Get those thinking caps and hunger for learning ready; it's about to get crazy!
Saint Patrick's Day

We all know this festival oh too well; it is even celebrated in some countries worldwide. It is the biggest and most extravagant festival known in Ireland that pays patronage to St. Patrick himself, celebrated in March. So you can imagine Mardi Gras as an event like such, but imagine five long days and a lot more beer. Unleash the beast, as some may say; it will be EPIC.
Cork Vegfest
Many people have recently shifted to veganism to spearhead a change in their diet to live a healthier lifestyle. If you want to think about an event that celebrates that and much more, mark your calendar during April and book your tickets to Ireland. The Cork Vegfest is not only an opportunity to try vegan cuisine but also an opportunity to learn the practice.
The Burren Slowfood Festival
It may be a weird event, and some people may not find it interesting. However, the Burren Slowfood Festival is one of the most significant events for food critics worldwide. It is celebrated in Ireland during May, gathering people to focus on the imprint of food and how majestic the process and digestion soothe the soul.
These festivals are Ireland's only five known celebrations that showcase their rich and soulful heritage. If you are a visitor that celebrates these practices with them, you aren't going to feel like you are left out.
The welcoming vibe and happiness shared in everyone's faces during the said events make the trip worthwhile and life-changing. We should wear jewellery that takes us back to our roots and proclaim our heritage. Let's be proud to be Irish and celebrate these festivals as one family! Celebrate music, food, and drinks with people who can celebrate it correctly.
Find an Irish local and change the way you perceive festivals TODAY! Grab your Celtic Pieces to celebrate these festivals with style and finesse.